Subscribe for the latest news & promotion
Sea Zen blends modern architecture and contemporary design to provide a serene oasis just steps away from Bang Saray Beach. Sea Zen features the latest designs in one of the most desirable locations in the region.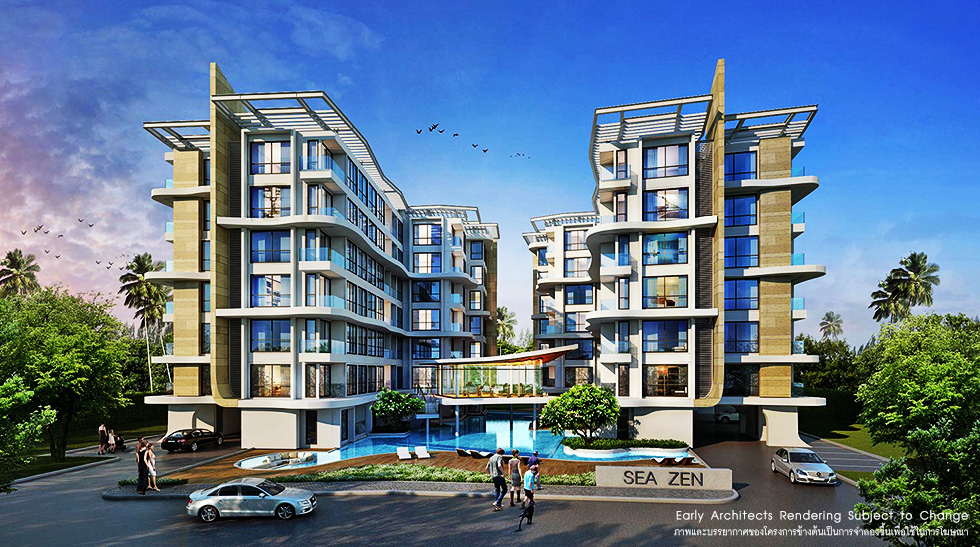 Unwind in the resort style swimming pool, and soak up the sun at our poolside terrace with pool bar and jacuzzi. Take in the stunning sea and mountain views from the rooftop relaxation area or burn off some steam in the fully equipped fitness centre overlooking the zen garden and resort pool.
The project features state of the art security including key card access, sheltered parking, 24 hour security and CCTV.
Residents can enjoy the free wi-fi and take advantage of the full management services including maid and laundry services. Just a short stroll form the beach, local park and town centre, Sea Zen offers residents all the conveniences of a beachside resort. Sea Zen makes life easy with our free shuttle service allowing buyers to access the surrounding amenities, tourist attractions and vibrant city of Pattaya.
UNDER CONSTRUCTION%
2 Buildings 156 Units
90%
FLOOR 1.
FLOOR 2.
FLOOR 3
FLOOR 4.
FLOOR 5.
FLOOR 6
FLOOR 7.
FLOOR 1.
FLOOR 2.
FLOOR 3
FLOOR 4.
FLOOR 5.
FLOOR 6
FLOOR 7.
Just over one and a half hours drive from Bangkok's International Airport (Suvarnabhumi ), Bang Saray is a tranquil fishing village located on Thailand's Eastern seaboard. Bang Saray offers residents and holidaymakers a living experience like no other. Renowned for it's great seafood and pristine beaches the area is fast becoming the place to be seen. The area is currently growing rapidly with a number of new restaurants, bars and amenities opening daily. There are already a number of luxury housing developments in the area but for the most part Bang Saray retains it's old world charm.
A massive investment scheme geared towards making the Eastern Seaboard the primary logistic and manufacturing hub for Thailand is well underway.

This initiative will ultimately help redefine Bang Saray as Thailand's premier tourism destination.
The finance ministry has approved a budget of THB 300 Billion (2017 – 2021) and estimates a further THB1.5 Trillion of foreign investment over the same period.
The Eastern Seaboard is the second largest contributor to Thailand's GDP after Bangkok.
Copyright©Sisaran Group Co., Ltd.

Subscribe for the latest news & promotion